Good Morning Folks-I'm enjoying my last few days here in Lake Powell soaking up as much warmth from the rays as I can. We've had a week chuck full of fantastic guest bloggers and I'm just as excited to introduce you to our last guest post for the week.
Nat and I had the chance to meet in real life a few months ago at a blog meet up here in Salt Lake City. She is such a doll and has such a fun personality. I was pretty nervous at first but she was great and by the end of the night we were all friends.
I'm so excited for Nat's post today because I finished up my own version of these before I headed for Lake Powell. My sister and I have been planning on using our candles for our Vampire Party for a while now so I was so excited when Nat submitted this post. I hope you get some fun ideas and hop on over to Doodle Craft to say hello!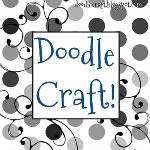 Hi! I'm Natalie from
Doodlecraft!
I am thrilled to be guest posting over at Newlyweds on a Budget!
I met Kari recently at a GNO and she is a complete doll!
Thanks for having me!
Today I am featuring an awesome Halloween decoration
that keeps you on a 'cheapskate budget'!
(And your kids will be thrilled too!)
Bloody Candlesticks!
Perfect for a Halloween Murder mystery dinner...
Red bloody drips all over black candles.
Start with RED taper candles...
make sure that the red color goes all the way through,
not just dipped over the last couple of layers.
(mine were given to us by an old lady...
and so I just scratched them with my fingernail.)
Spray paint or paint them black!
I sprayed them and it stayed sticky for a while...
they had to dry for a day and a half...probably
because I couldn't set them in the sun to dry!
I did one candle at a time.
Put it in a candle holder that you don't mind splattering with wax.
I started out using a long grill lighter to get the drips going, but the lighter ran out.
So I got a chopstick...the disposable kind from restaurants...
and burned it. It held a flame really well and made it easy to work the drips!
I wasn't going for subtle on these!
The kids all joined in the fun too!
We did 5 candles total.
A little charcoal drawing never hurt!
Love how the wick curled like that!
So fun! Perfect for Halloween!
The candelabra adds the crowning finish!
:)
Thanks again Nat for the awesome Halloween Craft-here are some of my favorite crafts Nat has done recently-
These Mad-Hatter lamps are so cute! I've been meaning to make some of my own for a while now, I love how her's turned out.
She also shows how to make some awesome Acid Mirrors-she got the tutorial from one of the girls hosting the blog meet-up where we first met!
Nat's got a lot of fun crafts and great design ideas so be sure to hop on over and check out Doodle Craft and leave Nat some fun comments!